Fresh specialities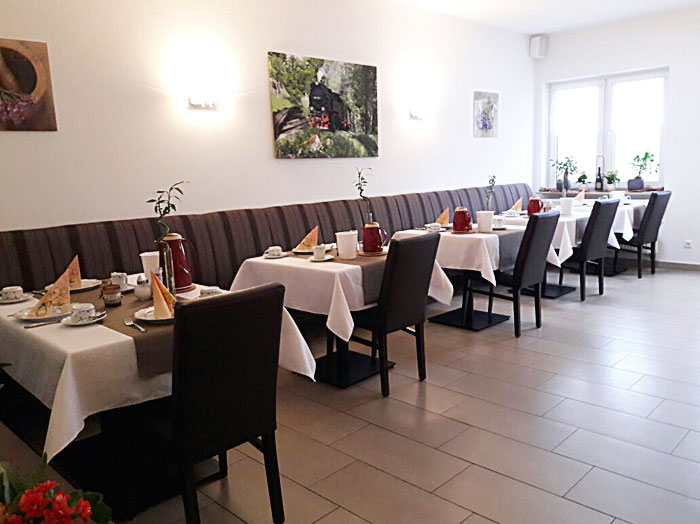 The restaurant for the whole family.
Relax and enjoy a good meal. We are confident that our menu caters for everyone.
Look forward to fresh salads, meat and fish in different variations with side dishes of the season, hearty sandwiches and the popular baked potatos. From our regional Holstein kitchen we offer you home-made sour meat, herring, eel and tender smoked ham.
Everything for large and small appetites.
In the right season it tastes best
Depending on the season, we enrich our card with seasonal menus. Enjoy fresh asparagus in May and June, later herring or smelt and savory kale in fall and winter – all in good time.
Soups
e.g. Cream of tomato soup with Gin cream topping
Try our beef broth, cream of asparagus soup, our French onion soup or a hearty goulash soup.
Salads
e.g. Salad with chicken breast and tomato pesto, served with fresh fruit, sunflower seeds and orange dressing.
We also recommend our salad with smoked salmon and shrimps, the Italian salad or tuna salad with our colorful side dishes.
Meat
e.g. Pork Tenderloin with Hollandaise sauce, mushrooms and onions baked, served with assorted vegetables and potato croquettes
or steak fried with mushrooms and onions, herb butter, vegetables and fried potatoes.
You can also find on our menu roasted chicken breast with peach, turkey with Curry, a hearty steak or a hearty lumberjack steak and different variations of schnitzel.
Holstein dishes
e.g. Homemade sour pork meat with fried potatoes and remoulade
Enjoy also herring by type of housewife, grilled herring or fried eggs.
All of the potato
e.g. Baked potato with shrimps and smoked salmon, sour cream and salad garnish
and other variations around the baked potato.
Fish
e.g. Salmon – steamed or fried on a bed of vegetables with puree of wild garlic and lemon sauce
We serve you also our steamed pike perch, redfish, North Sea plaice and eel in jelly. On reservation we prepare our fried eel with potatoes, dill sauce and salad.
Vegetarian Dishes
e.g. Crispelle – Parmesan pancake, stuffed with spinach – cream cheese, baked with tomato and cheese.
For friends of vegetarian cuisine well, we have a baked Camembert with filled peach or cream cheese and herb bags with Thai-chili-cheese and salad.
Hearty sandwiches and other treats.
e.g. Lendchentoast – pork on toast with mushrooms, onions and hollandaise sauce.
Choose from our various dishes of toast or try our giant burgers.
For our little guests
e.g. Robin Hood – small steak or chicken nuggets with vegetables and French fries.
How about with potato pancakes, fish sticks or pasta with tomato sauce.
Dessert
e.g. Blueberry pancakes with vanilla ice and cream.
Opening times
Mon-Fri from 5.00 p.m.
Sat 11:00 a.m. to 2:30 p.m.and from 5.00 p.m.
Sun 11:00 a.m. to 2:30 p.m. and from 5.00 p.m.
Closed Wednesdays
Special events by appointment